Sunrise Refractory High Quality Hot-selling Corundum Mullite
2019-09-27
The development of corundum mullite bricks should be timely adjustment to the development of high-quality management, improve the use of the steel industry and increase the number of uses, and improve the future development of corundum mullite brick refractory manufacturers.
At this point, the use of corundum rate is very low, it is difficult to meet the requirements, and the overall strength and construction capacity is poor, can not meet the diversified environmental steel industry. In the future, we will vigorously strengthen our own fire resistance, use high quality and serve the supremacy.
Mullite is a series of minerals composed of aluminosilicates, which are rare. Mullite is a mineral produced by aluminosilicates at high temperatures, and mullite is formed when artificially heating aluminosilicates. Natural mullite crystals are elongated needle-like and radiate clusters. The mullite mine is used to produce high temperature refractories.
Corundum mullite is used to load materials at high temperatures, sintered materials, stable thermal shock is higher than 99 porcelain crucible, can be used at 1700 ° C high temperature.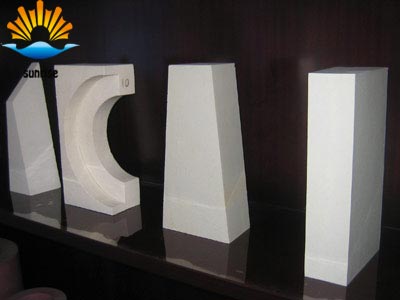 Corundum mullite is made of powdered sintered materials such as phosphorus, lithium and rare earth. It has high refractoriness, thermal shock resistance, high temperature resistance, good corrosion resistance, low slag resistance and low creep. Change, no milk, not easy to crack, use high stability, etc., are the ideal temperature for high oven tools to adapt to a variety of atmospheric conditions in the use of high temperature furnaces; applied to alumina ceramics and zirconia ceramics and fluorescent materials, powder metallurgy , electronic ceramics, magnetic materials, high temperature sintered ceramic powder.
Corundum mullite brick: white fused corundum and fused mullite as the main raw materials, introduced alumina and Suzhou soil, mixed granulation, molding, drying and dehydration, high temperature sintering, the product has high temperature resistance, hardness , and oxidation. Excellent performance such as corrosion resistance. This product is widely used in the sintering of special ceramics, electronic ceramics, phosphorus, rare earth and other materials.
The development and production of high-quality special refractory materials, the main products are: high-purity corundum products, corundum mullite products, corundum mullite products, alumina hollow ball products, light industrial products brown corundum, white corundum light mullite Products, zirconium brick products, product chrome bricks, various special refractory shapes.
If you are interested in Sunrise Refractory corundum mullite brick, please send us an email for more details and the latest quotation.