Introduce Sunrise Refractory Fused Cast Alumina Block For Sale
2018-12-03
Fused cast Alumina Block for sale is formed by the compact structure of alpha alumina and beta alumina crystals in a most ideal proportion which is approximately 50% and 50% respectively, where intertwined crystals of both materials result in a very dense structure. The sunrise fused cast alumina block for sale is characterized with dense structure and no contamination to glass.

Fused cast AZS block for sale is the most widely used material both in glass contact and superstructure of glass melting furnaces due to its good corrosion resistance to melten glass and almost no pollution to glass liquid.

Due to good resistance to alkali vapors, fused cast alumina block is the best choice for the downstream part of superstructures of glass furnaces. the most widely used grades are alpha-beta fused cast alumina block and beta fused cast alumina block.

Sunrise refractory particular emphasis on three fundamental properties of fused cast products which affect their use:
Oxidation level of the melted liquid: The oxidation level strongly influences compactness, blistering tendency, exudation, stoning and corrosion resistance. The optimal oxidation level depends on the melting process and proper control of the melting parameters within the furnace.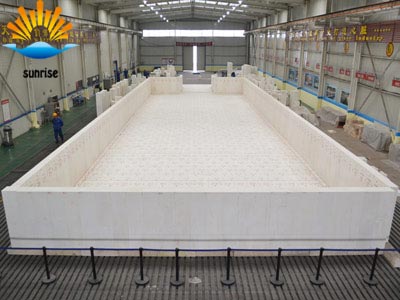 Compactness, cohesion and homogeneity of the crystallographic structure: The level of oxidation-reduction in the cast liquid and the solidification conditions strongly influence the quality of the crystaline structure and the compactness of fused cast products. These determine product behavior during utilization.

Size and position of the shrinkage cavities: In order to provide the best possible quality in terms of product end-use, the material contraction which occur during the solidification process must be carefully controlled, as it affects the homogeneity of the piece, the volume and location of the shrinkage cavity, and the residual stress.

If you have interested in sunrise refractory fused cast alumina block, please connect with us, we will reply you in the first time.