Factory Price of Fused Cast AZS Brick For Sale With High Quality
2018-11-28
The fused cast AZS brick is also called fused zirconium corundum brick. Fused Cast AZS Brick play an important role used in Glass Furnace, it is made of pure alumina powder and zircon sand and is composed of three main chemical components of Al2O3, ZrO2 and SiO2. Besides, the fused cast AZS brick is manufactured through casting technology in sunrise refractory professional factory and technology.

Fused cast AZS bricks for sale are manufactured by fusing raw material and shaped in the mould. Then after further processes of cooling and burning, the fused cast AZS bricks are final produced.

Fused cast AZS bricks are the most widely used materials in glass industry furnaces. According to its different ZrO2 content, it can be classified as AZS 33, AZS 36, AZS 41, which basically defines their corrosion resistance and their applications.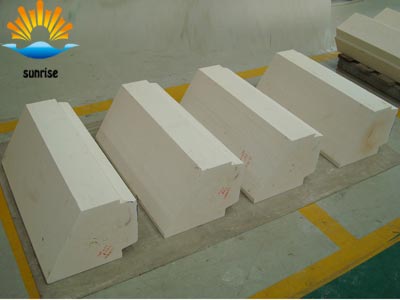 While according to casting method, sunrise refractory fused cast AZS bricks for sale can be classified with regular/normal (PT/RC/NC), oriented (TC/OC/QX), reduced cavity (ZWS/ENC/EC/RC), or without cavity – void free (WS/VF/FC).

Our sunrise refractory fused cast AZS bricks is widely used for superstructure, paving blocks, feeder channels, tank bottoms, working pool side wall, C-shaped block side walls, working layer and doghouse crown in glass furnace. The fused cast AZS bricks of sunrise refractory with good resistance to high temperature and corrosion, and we have our own factory so can provide you a competitive price compared with peers.

There are three main types of fused cast AZS bricks for sale in sunrise refractory company. They are fused cast AZS 33#, fused cast AZS 36# and fused cast AZS 41#. If you need fused cast AZS bricks, welcome to send e - mail us for Free Quote!