Sunrise Refractory Oxidation Method Fused Corundum Brick For Sales
2019-04-16
Since 2001, under the strong development of high-temperature industries such as iron and steel, non-ferrous metals, petrochemicals and building materials, the refractory industry has maintained a good growth trend. China has become a major producer and exporter of refractory materials in the world. In 2011, China's refractory production accounted for about 65% of the world's total, and production and sales ranked first in the world's refractory materials.
AZS oxidation method fused zirconia corundum products are made by high-quality purification raw materials, using a special electric arc furnace, and undergoing a long arc melting and oxidation process. This electrofusion casting process has almost no contamination from the electrode carbon. Due to the use of this melting process and the use of high-purity raw materials, the ZA series of oxidized fused corundum products have special, high resistance to glass liquid erosion, and the contamination of the molten glass is also extremely small.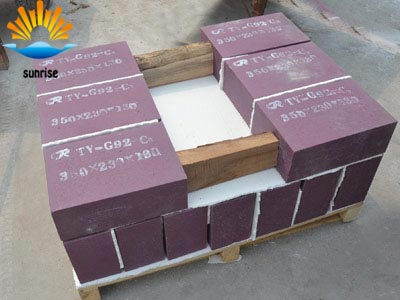 Zhengzhou Sunrise Refractory Company's oxidation method fused corundum brick is used in various fields of national economy such as steel, non-ferrous metals, glass, cement, ceramics, petrochemical, machinery, boiler, light industry, electric power, military, etc. The basic materials essential for production operation and technological development play an irreplaceable role in the development of high-temperature industrial production.
Moreover, Zhengzhou Sunrise Refractory Company can provide customers with the most assured after-sales service. At present, Sunrise's products have been exported to more than 50 countries and regions such as Asia and Europe. No matter where you are from, Sunrise will provide you with quality products and sincere service in a long-term and stable manner, focusing on casting the heart for glass enterprises.
Zhengzhou Sunrise refractories have a longer life, more energy-saving, pollution-free, functional products, and the products meet the needs of national economic development such as metallurgy, building materials, chemicals and emerging industries, and improve the technical content of export products.