Casting azs brick factory direct sales
2019-07-25
Electrofused zirconium corundum brick - zirconium corundum fused brick - fused cast zirconium corundum brick - 41 fused zirconium corundum brick commonly known as white iron brick or cast zirconia corundum brick. It is an important refractory material to ensure the normal operation of the glass melting furnace. At present, the glass melting furnace at home and abroad increases the melting rate, prolongs the kiln age, and reduces the fuel consumption mainly because of the use of this refractory material.

Electrofused zirconium corundum brick-zirconium corundum electric melting brick-melting zirconium corundum brick-41 electrofusion zirconium corundum brick can also be called corundum-oblique zircon product, its main chemical composition Al2O3 is 50%-70%, ZrO2 is 20% One 40%, the rest is SiO2. The main mineral composition is oblique zircon (ZrO2), corundum (α-Al2O3) and glass phase. The oblique zircon crystal forms a brick body backbone. ZrO2 has a high melting point (2715 ° C), good chemical stability, and strong resistance to acidic and alkaline media, especially against glass.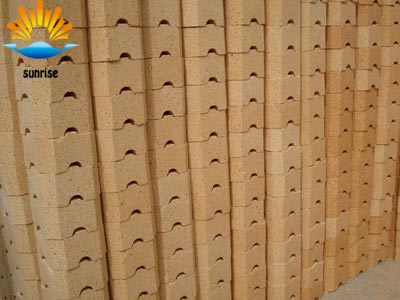 Electrofused zirconia corundum brick-zirconium corundum fused silica-melting zirconium corundum brick-41 fused zirconia corundum brick with the increase of ZrO2 content, its performance is also improved, generally zirconium corundum brick is divided into several according to the amount of ZrO2 Grades, such as 33%, 36%, and 41%, are also classified into 30%, 40X, and 50% grades, which are not uniform. At present, more products are used containing 33% zirconium, the density is 3.65-3.7 g/cm3, and the use temperature is about 1700 °C.

The fused zirconium corundum brick is widely used in industrial furnaces such as glass melting furnaces. The use parts in the glass melting furnace are built on the upper wall, small furnace, small furnace, and chest wall.